I realize that I've been pretty horrible in terms of actually being online to post entries or comments over the last few weeks, and I'm sorry f-list! I've had mid-year exams, and my maternal grandparents have been around, so the family's been together quite a bit, giving me more time to catch up with my mother's side of the family :D
I was thinking of writing a post entirely about the kind of shit I feel like I've been going through for an insane amount of time, and I really really want to talk to someone about it, my rl bff didn't really respond to me with the most encouraging advice or whatever so yeah. If anyone would like to let stuff out themselves or let me let stuff out to you, hello, I am here for you ♥

I see sadness and some other crap you guys are going through (I've been sifting through about 2 weeks of your updates ♥) so, I DON'T WANT TO ADD ON TO THE SADNESS BY DEVOTING ONE BEEEEG POST TO SADNESS AND DRAMA! So instead! YOU GET AN ARASHI PICSPAM! The pictures all of which are from a very very old folder in my external harddisk that I have not touched for more than a year :D
THE HAPPIFYING ARASHI PICSPAM!
Warning : Moderately large pictures ahead.
So we'll start with the WAY BACK WHEN... segment!
I don't know what I like about this.
The teeth? Ohno's expression? Nino's extremely chunky man-bracelet?
All three? THE YOUTH?
AUGH THE COLOURS ARE SO GAUDY.
But that's okay, my eyes have been trained to withstand bright colours like these here
and on the VSArashi set
.
Ohno's eyebrows look nice and catterpillary here ♥
We interupt this picspam for some very very very young and cute Matsujun
...
/dies. SO CUTE. JUN. AND THE BEAR.
SHO AHAHAHA.
In cheap teddybear-printed, yellow checked PJs!
WHAT IS IT THAT ATTRACTS ME TO THIS?
The smile, the teeth, the toes, the position, the pjs, the hair or the gigantic yellow pillow?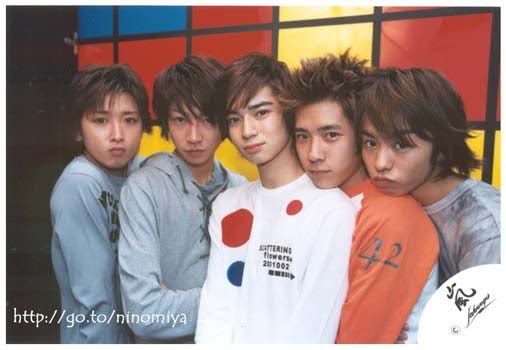 I like this because Ohno still has his baby fat here.
And because of Sho's lips. And the chin-on-shoulder action XD
I DON'T KNOW WHAT'S FUNNIER,
The sunflower wall paper or Matsujun's =_= face :D
Cake and feeding Sho and Ohno looking SO LOST and I think I have something just like Sho's jumper, no shit.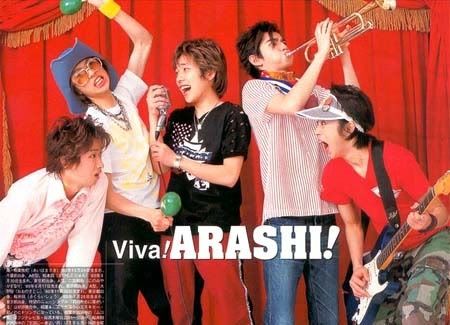 ;w; I have this printed out and stuck onto the cork-board in my room.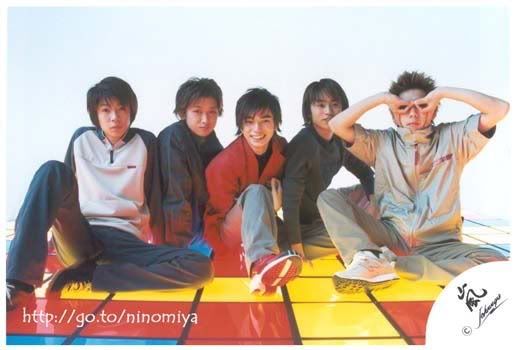 NINO HAHAHAHAHAHA.
And the shiny floor that looks like a Ludo Board X)
... C-cute ;w;
This is my life. Right here. This completes me.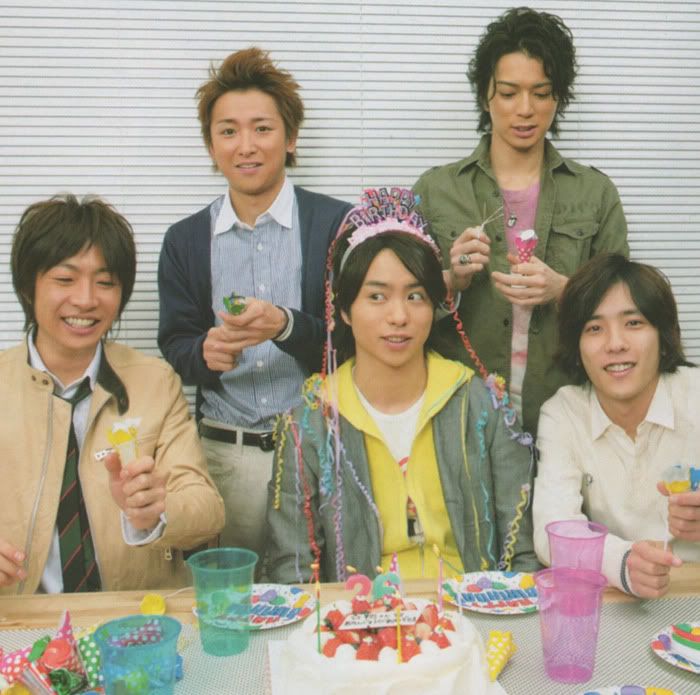 There is something about Arashi when they are with cake and it has to do with Sho.
... And his lacy pick hair-band that also has Happy Birthday sticking out of it.
I want to squish Jun's face.
THANK YOU TO THE FIRST ARASHI RELATED DRAMA I HAVE EVER WATCHED.
THANK YOU NINO-SHINYEYES ♥
*SQUISHES*
Ohmiyaaaaa~ It's been too loooooong :3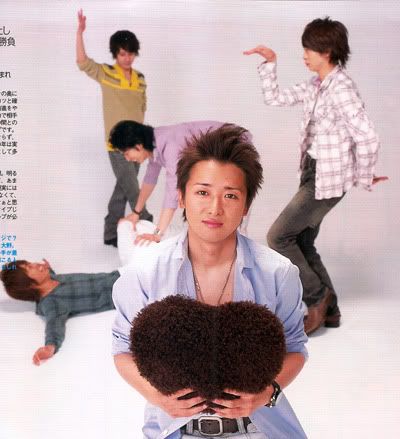 Sho and his swan *w* AND WHAT IS JUN DOING TO AIBA SRSLY.
Ohmiyaaaaa~
And Aiba pointing to the sky!
SHO'S FACE ghoahsjahsjkhas;;a;sjas!
AND Nino's non-existent, existent stomach!
Words cannot describe what I feel for this ;w;
gkshjflsd;sf'sflhsdj.
The power of SHOulders and air-muscles.
Every time I look at this all I notice is that the 3 on the left are tall and the 2 on the right are tiny.
... And Ohno's hand in his backpocket.
Teeeeeeeeeeeeeth. And Nino sort of looks like a horse, smiling like that.
Also, Aiba ♥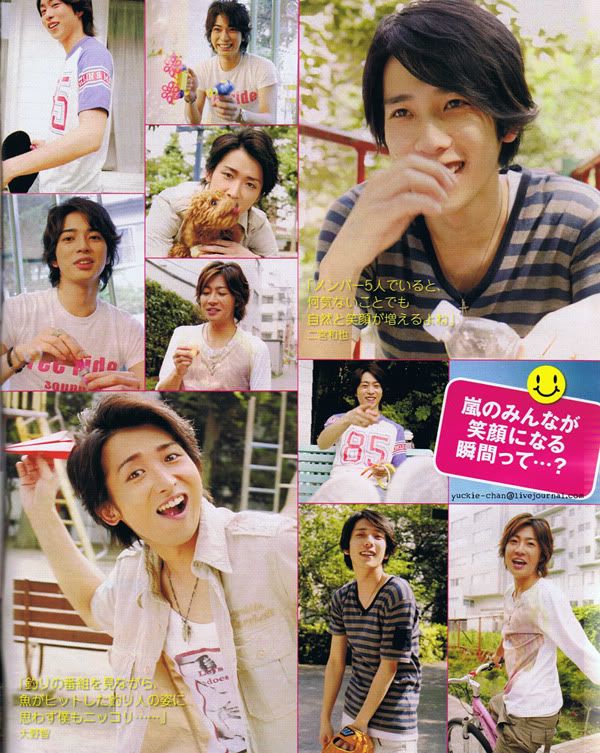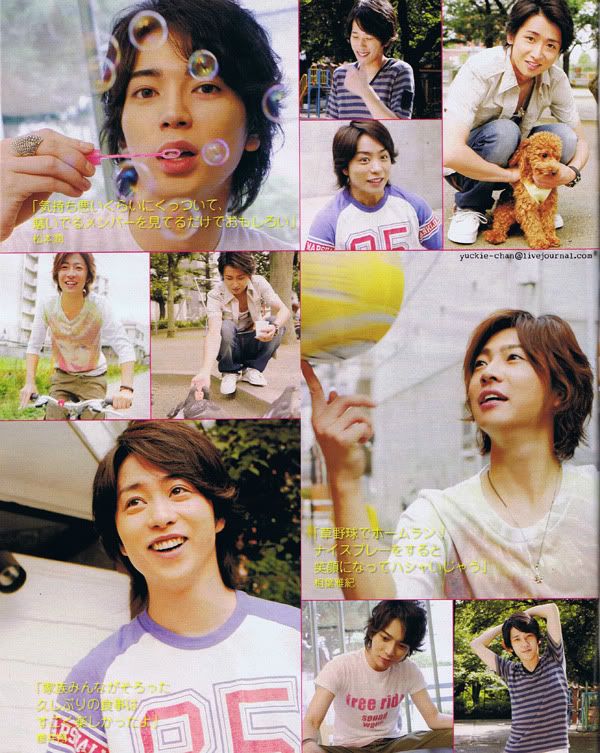 Ohno and puppy! Ohno and paper airplane! Ohno and pigeons! MAINLY, OHNO AND PUPPY GAH MY HEART.
and Aibaaaaaaaaaa :)
TOES :D And Ohno's
Maou
face.
Did I mention Arashi all on one bed? Arashi - All on One Bed.
Toesssss. ( you'd think I have a fetish for them or something, this is not true.)
... I think.
:) Ohno looks toasty here. But I do want to rip the stubble off his face.
Toothbrush, meet Ohno's nose.
OH-NOES~!

AHAHAHAHAHAHAHAHAHAHA, WHAT IS THIS, I AM TOO LAME.
Also, Sho's rolled up pant-legs :D
This is clearly what they lack, especially with a new album, new tour and four days of Kokuritsu coming up this year.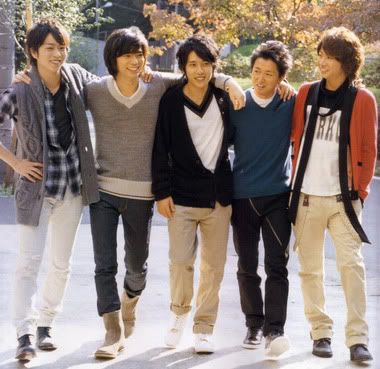 I absolutely adore Sho's knitted vest. I am in love with it. And Jun's boots.
My knitting is SO mediocre but if anything, I WANT TO KNIT THAT VEST SO BADLY.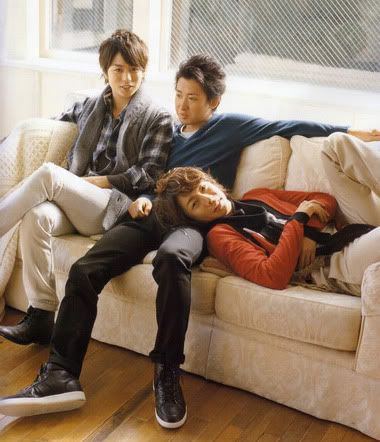 I love how the light hits Aiba's face ;3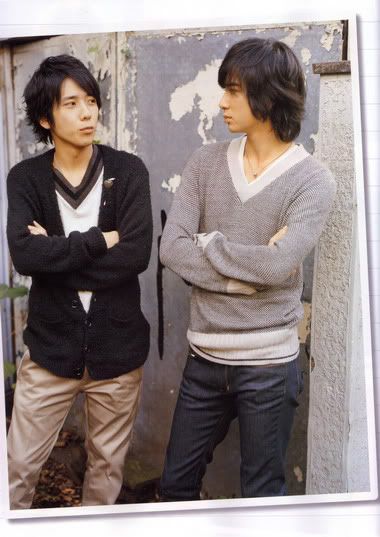 Matsumiyaaaaaa :D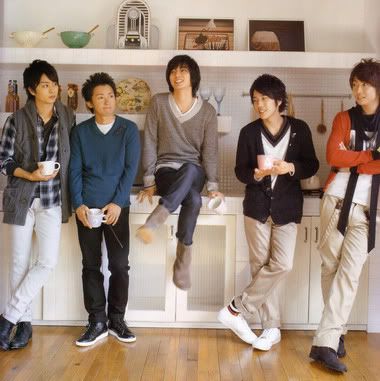 Yeah, I'd be a total morning person if Matsujun were to sit on my kitchen counter to greet me every morning alright.
Once again, Jun's boots! And Nino's uncontrollable palm-meet-face laughter ;p
I'm crying at all of their expressions. And Sho's vest ;m;
AHAHAHA SO CUTE.
I love how Ohno's vest makes him look like a freshly fluffed pillow.
... Or a penguin.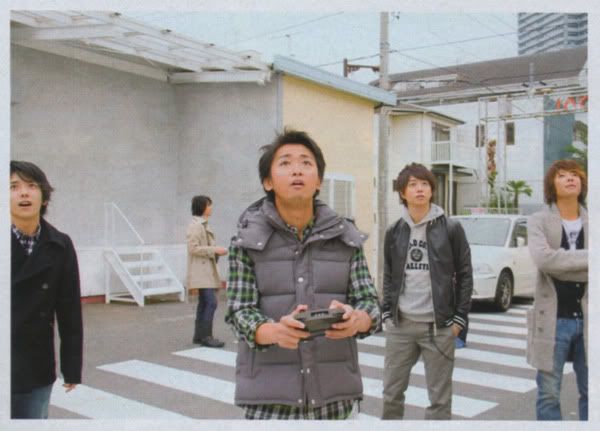 OOOOOH.
AHHHHH.
... aaaaaand Matsujun is totally lost here.
Cuuuuuute.
I also love Nino's wind-tousled hair and the veins popping out of Sho's camera wielding hand ;D
YAMA, WHY SO CUTE!?
fhahsjkhflkajslkaj NEEEEN ♥
Happy Jun!
This is love okay. LOVE.
I love Aiba's coat, btw. It looks so warm and fluffy XD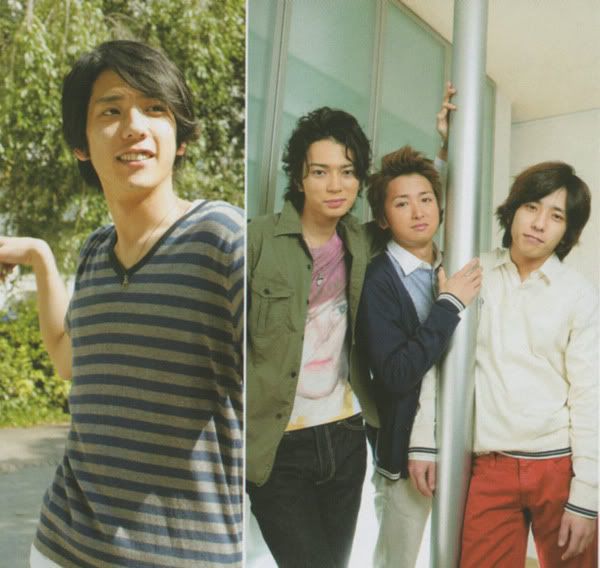 I so did not put this up because it's MatsuOhmiya around a pole.
... Okay, so I did put it up for that, but I find the Nino in the left picture SO endearing with his limp-wrist X)
Work it, boys :D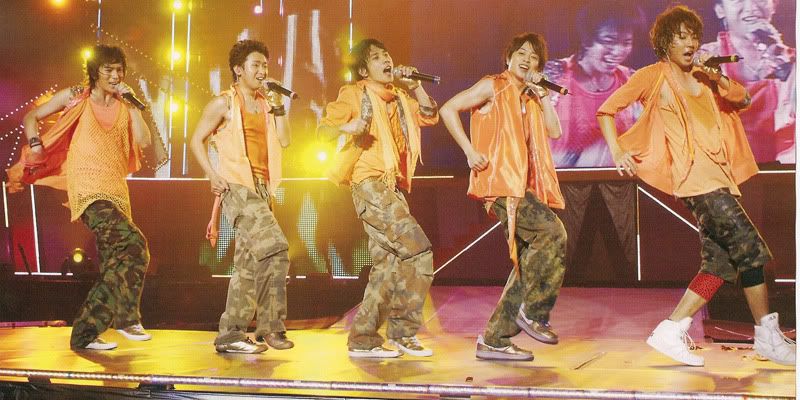 Concert prettiness ♥
THEY ARE FLOATING OKAY.
♥♥♥♥♥
IT'S LOVE.


Current Mood:

:DDDDD
Current Music: Lee Hyori - Scandal