Everyone gets a meme I'm taking from

taeminty
:D
☂ Anyone who looks at this entry has to post this meme and their current wallpaper on their LiveJournal.
☂ Explain in five sentences why you're using that wallpaper!

☂ Don't change your wallpaper before doing this! The point is to see what you had on!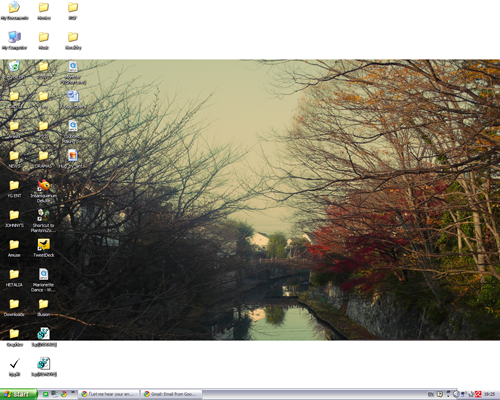 1. It's beautiful.
2. It's a picture I TOOK MYSELF in Japan last year.
3. It reminds me of my host family.
4. It's one of my more professional looking photographs :D
5. I MISS JAPAN ;____;


MEANWHILE

AND, if you click "Insert Coin" (or just wait on the Google page for a few seconds) you can actually PLAY the game :DDDDD
IF YOU CLICK "Insert Coin" TWICE, HOWEVER...

MISS PACMAN POPS OUT.
And yes, once again, you can play the game. This time Pac Man is controlled using the Up, Down, Right, Left buttons and Miss Pac Man is controlled using the W, S, A, D keys on the keyboard :D
And this is why Google is awesome.

How's everyone doing?
Current Mood:

:|